Share Your Story
Share Your Story
Wednesday, November 5, 2014

Important: This event has already occurred.

7:00PM - 8:00PM
Christian Life Fellowship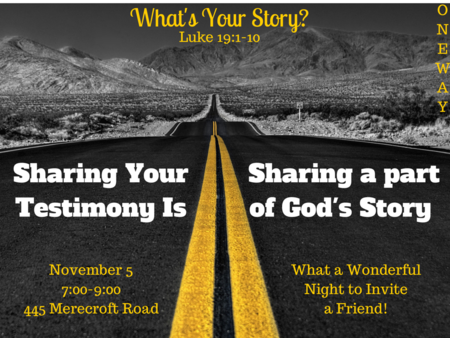 Story Time.

Sharing your story may be terrifying to some. But, there is great value in sharing how God has touched you. A testimony shines light on what God's done or is doing in your life. Wouldn't you like those who don't know Jesus to know what Jesus has done for you? Maybe they want to know but you've been hiding your testimony?

This Wednesday night we will be gathering together and learning the importance of sharing your testimony, listening to some of our own testimonies, and thanking God for what he is doing in our midst.

I am very excited to be apart of a night like this and I really hope to see you there! I also hope to see friends of yours. Here at One Way Youth we are not satisfied with hiding our faith. We want to show people the friend we've found in Jesus and invite them to participate!

7:00-9:00 // 445 Merecroft Road // Bring Your Friends !
Church Life OverFlow Youth
Return to Events
---